History of tidal range technology in the UK
Tidal lagoons, like their forerunners tidal mills, produce energy by creating an artificial impoundment and exploiting the difference in water levels between the external tide range and the basin level i.e. the head difference.  With a large tidal range you can create a large operating head and, as with conventional hydropower, the greater the head difference the greater the potential energy that can be extracted.  The mega tidal ranges experienced around the British Isles and in particular the Severn Estuary give the UK one of the greatest tidal range energy resources in the world.
UK millers were harnessing the power of our tides almost 1,000 years ago, so tidal lagoons are a modern interpretation of a very old, simple and natural idea.  The UK's first tide mill was recorded in Nendrum Monastery Northern Ireland in 619 AD.  The first tide mill in England, located in Dover, was recorded in the Doomsday book in 1086 AD.  By the 18th Century it is estimated that there were over 700 tide mills operating along the Atlantic coastline of Europe and the US, with 200 operating in the UK, of which 140 were in London. The last working mill was at Woodbridge. Watch eafa.org.uk/catalogue/334.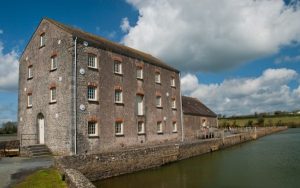 Carew Tide Mill Pembrokeshire
The high tidal range of the Severn Estuary has long been an obvious choice for siting tidal power plants and plans for a Severn Barrage were initially proposed by Thomas Fulijames in 1849.  Since then, a number of proposals have subsequently been put forward.