Coastal habitats can support a wide variety of bird species, including wildfowl and waders. In the UK some regions are designated as Special Protection Areas under European legislation which protects some species of birds.
The development of tidal lagoons has the potential to effect bird populations in a number of ways, including: disturbance, loss of and changes to intertidal habitat and saltmarsh, changes to water quality, changes to fish populations, far-field changes in water levels, displacement effects, and effects on SPAs and other protected sites.
In order to assess these potential effects, Tidal Lagoon Power (TLP) can make use of the extensive bird survey effort already in existence within the UK. This can be supported by site specific bird count surveys (from a boat or plane) in order to establish the current population numbers and distribution prior to development. GPS tagging and tracking can also offer insight into bird behaviour of specific species and colour tagging and recording re-sightings by the public can also be useful.
In order to predict the impacts of a project as large as a tidal lagoon, it is likely that the results of these surveys would then feed into modelling of bird behaviour to better understand the likely effects of development. This overlaps with the coastal process modelling as the effects on sediment movement, waves and currents during construction and operation of the lagoon will in turn effect other ecological receptors, for example the food supply for birds and the distribution of protected habitats.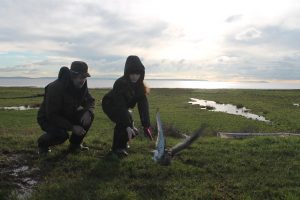 Releasing a tagged bird