A project at the heart of the community
Swansea Bay Tidal Lagoon has received widespread support from the local community throughout its six year development.
86% of local people registered their support for the project during community consultation, with almost 1,000 residents signing up to join one of four independent Active Supporters Groups.  Around 120 people from South Wales took up the opportunity to invest in the development of the tidal lagoon.
Early and widespread engagement with the community has helped to shape a transformative project that addresses local needs and aspirations.
A power station with a difference
Swansea Bay Tidal Lagoon could power around 155,000 Welsh homes each year, approximately 90% of homes in Swansea Bay. But the project will be so much more than a power station:
Regeneration
The project is considered a catalyst for regeneration in the Swansea Bay City Region, featuring prominently in the proposed Swansea Bay City Deal and can be viewed in Swansea Bay City Region's new interactive map.
The Fabian Way Innovation Corridor Masterplan positions Swansea Bay Tidal Lagoon at the centre of its regeneration plan, while both the City and County of Swansea and Neath Port Talbot County Borough Council's local development plan policies focus on capturing the benefits of the project to Swansea Bay's waterfront regeneration ambitions.
Recreation & Amenity Facilities

We hope the tidal lagoon will provide positive experiences for residents and visitors to Swansea Bay. The seawall will be free to access for exercise or just a stroll to take in the spectacular views. There will be a playground, beach and rockpools, as well as art installations from local and international artists and the Offshore Visitor Centre where visitors will learn more about tidal power and enjoy the truly unique seascape setting. The lagoon will be a fascinating place to visit, encouraging healthy living and engagement with the great outdoors. This is all the more true when you consider the wider opportunities created by the sheltered waters and features of a tidal lagoon…
Sports

We want the tidal lagoon to become a foundation venue for a whole range of local, national and international sports. This includes cycling, walking and running around the lagoon wall, as well as sea angling, open water swimming, canoeing, rowing and sailing within the lagoon itself. We are committed to providing a stunning boating centre (with access for disabled users) and permanent access to the water. We have liaised with many major sporting organisations which have expressed interest in using the lagoon's unique facilities to host events, including British Triathlon, British Rowing and the Royal Yachting Association. Swansea's schools and universities will also use the facilities for training and events, so there will be a busy calendar!
Conservation & Biodiversity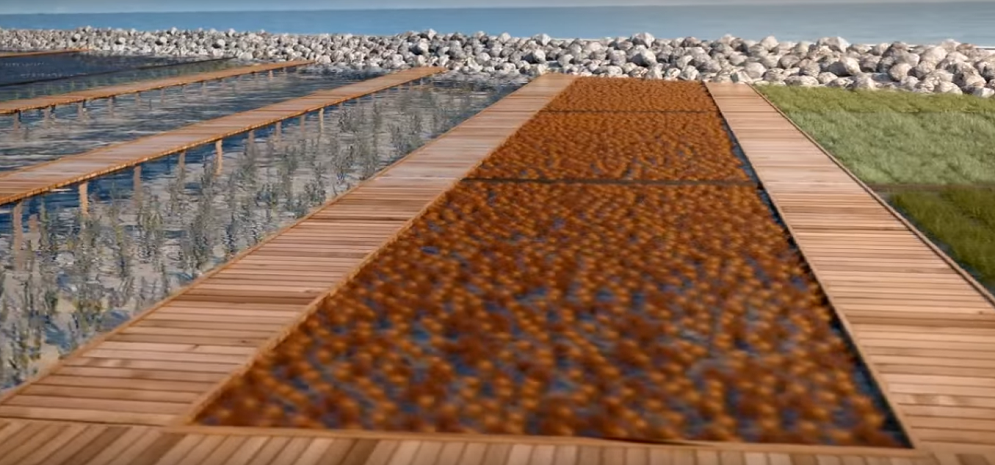 The lagoon creates the perfect space for conservation and biodiversity schemes. We will provide a lobster and oyster hatchery, and develop a marine aquaculture zone in partnership with local businesses to try new ideas and to help grow their businesses. Ideas currently being discussed include edible seaweed, cockle and mussel farming and further development work around integrated multi-trophic aquaculture (IMTA) – a way of a number of different species living together for environmental and economic benefit.
The lagoon offers the prospect of restoring the native Swansea oyster population, a former Swansea industry that provided 500 local jobs and landed 16 million oysters per year at its peak in the late 1800s.  The creation of a new seawall will offer opportunities to create new habitats to be colonised by a large variety of marine species, further encouraged by our collaborative work on 'bioblocks' that can be placed along the lagoon wall.  Enhancement work will also be undertaken to provide kittiwake roosts, new saltmarsh, dunes and grassland.
Learning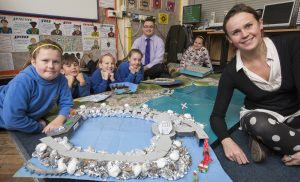 Image courtesy of Huw John, Tidal Lagoon Swansea Bay Team at Portmead Primary School. Swansea
The lagoon supports the development of world class research facilities in partnership with local academic institutions and schools. Our ambition is to work with all 176 schools, colleges and universities in Swansea Bay, to inspire students and develop skills and knowledge around themes of tidal energy, coastal engineering and marine conservation. We've already engaged with over 4,200 young people at over 70 schools through project development. We have provided workshops and lessons within the subjects of geography, science and Welsh Baccalaureate in 34 schools and, for the past three years, mentored local students at Gower College taking part in STEM Cymru's Engineering Education Scheme Wales competition.
Tourism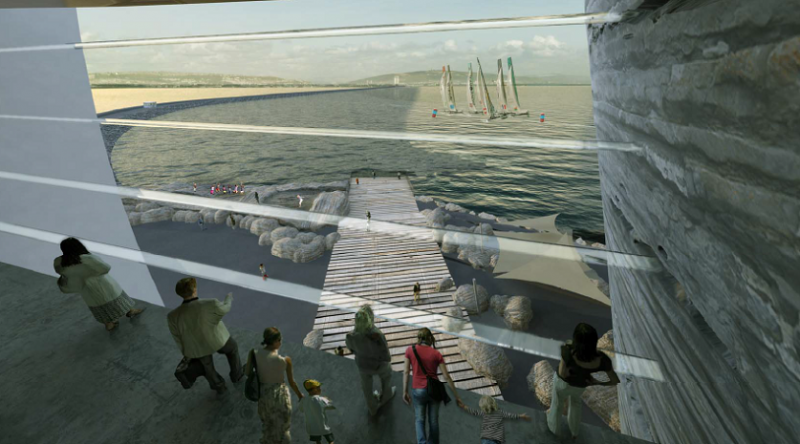 We expect the tidal lagoon to become a major tourist attraction, with around 100,000 visitors per year. Our guests can enjoy all of the above facilities, whether they are from Swansea Bay or around the world. Visit Wales and local tourist and business groups see the lagoon as a magnet for visitors; in much the same way as the Eden Project has for Cornwall, Swansea Bay Tidal Lagoon can generate trade for existing local businesses, as well as the new ventures sited at the lagoon itself.