Environmental Impact Assessment
TLC will be subject to a comprehensive and stringent Environmental Impact Assessment (EIA).
We recognise that a development of this scale doesn't come without impacts.  Accordingly, we seek to understand potential environmental impacts as early as possible in the project development cycle and go beyond the mandatory requirements for gathering environmental evidence.   When combined with an iterative development process this allows us to identify any concerns, minimise significant environmental effects and mitigate through design changes to project.
In addition we have established an Ecosystems Enhancement Programme (EEP); an initiative designed to take a strategic approach to addressing environmental challenges and to deliver a net positive outcome for biodiversity. To find out more, take a look at the EEP pages of our website.
Key features of this combined approach to the environment are as follows:
Evidence Plan
Through the adoption of an 'Evidence Plan' approach we are bringing together statutory and non-statutory regulators to agree the scope, methodology and necessary output of environmental surveys and impact assessments. Informed by this engagement, and the collation of pre-existing data from survey work conducted over the last 20 years, our team has initiated a programme which will assess:
Intertidal & subtidal ecology,
Birds, fish (including commercial and recreational fisheries) & marine mammals
Coastal processes modelling informing further work sediment transport, water quality, flooding & water resources, coastal erosion, navigation & marine transport
Land use & hydrology
Terrestrial ecology
Seascape & landscape
Marine & terrestrial noise & vibration
Air quality
Onshore transport, tourism & recreation, & socio-economics
Marine & terrestrial cultural heritage.
Independent Peer Review Groups
Through the establishment of Independent Peer Review Groups for fish and coastal processes to review all aspects of our work, we aim to ensure that we achieve high quality, independent and authoritative outputs, which are accepted by regulators and other key stakeholders including the public.
Early work
We have a lot more work to do but some of the surveys which are in the process of being completed are:
Bird tracking
Plankton
Targeted intertidal sampling (saltmarsh, seagrass, sabellaria, hard substrate)
WFD intertidal invertebrate sampling
IBM intertidal invertebrate sampling & analysis
Fish surveys
Intertidal sediment transects
Initial sediment sampling
Water quality sampling
Aerial imagery/topography surveys
Oceanographic deployments
Geophysical surveys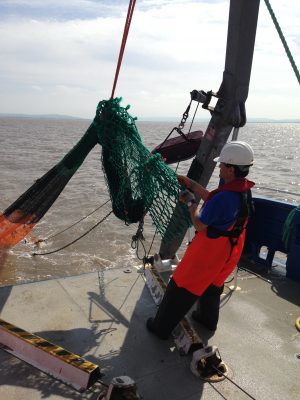 Undertaking a fish survey
For more information about the EIA process, take a look here.