The role of engagement
Our approach to consultation and project development is based on effective engagement. Our aim is to engage with any organisation or individual with an interest in the project.
It is our goal to meet and exceed planning regulations with a commitment to:
Early, ongoing and widespread engagement.
Involving local stakeholders and communities in project development and a dialogue about our energy futures, environmental impact, designs and the community.
Using diverse methods for diverse communities.
Being responsive to stakeholders' concerns as well as local needs and aspirations to create a transformational project.
We engage with stakeholders at all levels from individuals, clubs, organisations, associations and networks through to governing and statutory bodies including regulators.  Our engagement focuses on stakeholders who represent a number of different interests relating to our activities.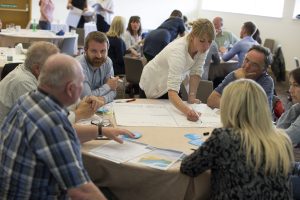 Image copyright: Huw John, Cardiff. Tidal Lagoon meeting at Wales Millennium Centre, Cardiff Bay
Cardiff Tidal Lagoon engagement so far…
So far we have held 628 meetings with stakeholders and carried out 34 community group briefings.
We have held stalls and exhibited at 16 public and community events, presented at and/or attended 47 conferences/events and given talks to a range of networks.
We have also held two stakeholder events, three workshops with key stakeholders such as the Statutory Harbour Authorities, 17 Community Council briefings and six Local Authority Council Members briefings.
We visited eight local schools, colleges and universities where we held debates and ran interactive activities and workshops to investigate some of the big questions and explore the career opportunities that Tidal Lagoons can create. See our case study below for further details.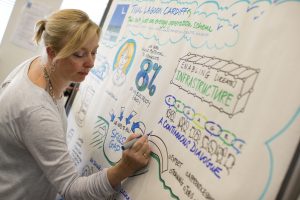 Image copyright: Huw John, Cardiff. Tidal Lagoon meeting at Wales Millennium Centre, Cardiff Bay
How does this fit into the planning and development process?
We record and report on all of the engagement and consultation that we carry out during the development of this project.
Over the next two years we will formalise our engagement by holding three rounds of consultation, where we will seek the views of local communities and stakeholders. For more information about opportunities to have your say on this project and the future of energy please go to our Have Your Say page which will continue to be updated as the project progresses.